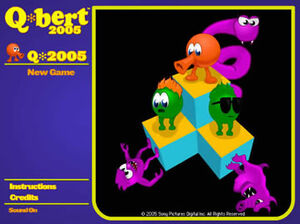 Q*bert 2005
is the name of a computer game that was released in the same year as the game year. Unlike the 2004 version of this game, this version doesn't have the pixels, the Easy Mode does not appear when Normal got there under the name of New Game, new levels appear after the 1st level, and the white background was replaced by a space one.
Deletion And Critism
Edit
The game got banned from a copyright claim from sony. But Unbanned with a new design
Mlg glasses is on sam.
The game can be played on any web.