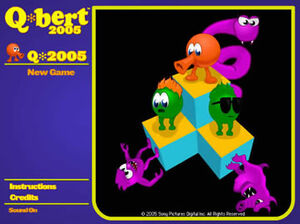 Q*bert 2005
is the name of a computer game that was released in the same year as the game year. Unlike the 2004 version of this game, this version doesn't have the pixels, the Easy Mode does not appear when Normal got there under the name of New Game, new levels appear after the 1st level, and the white background was replaced by a black one.
Ad blocker interference detected!
Wikia is a free-to-use site that makes money from advertising. We have a modified experience for viewers using ad blockers

Wikia is not accessible if you've made further modifications. Remove the custom ad blocker rule(s) and the page will load as expected.