Q*bert was an arcade game released around 1982 from Gottlieb. Until since 2010, the game was co-produced by Skunk Studios and Sonographic Imageworks. The game was started by an American company, known as Gottlieb. The concept and design was made by Warren Davis and Jeff Lee.
History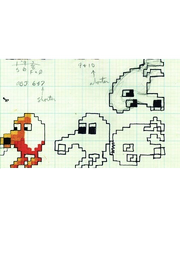 Gottlieb, a popular pinball game creator (famous for the pinball game "Baffle Ball") began catering towards the popular video game market making games for arcades such as Insector and Tylz, neither of which were released. Warren Davis, an employee at the time, put forward a concept for a puzzle platforming game starring an as of then undetermined character. Jeff Lee, a cartoonist friend of Davis, was commissioned by Gottlieb to design a character and distinct look for the game. Inspired by the works of M.C Escher, Lee designed a pyramid with a likeness to Escher's famous "Monello", which would become the stage for the game. The character, (still unnamed,) was chosen by Davis, after Lee drew up several possibilites. He chose a small, orange character with small feet and a large nose. Originally, the character would be nameless (similiar to the protaganist of Robotron 2084). Throughout development several names for the game were considered. The character was nick-named Hubert for part of the development phase, and it was suggested that (since the character jumped on cubes,) he should be renamed Cube-rt. This then changed to Cubert, and at some point was abbreviated to Q-bert, but was ultimately changed to Q*bert. Meanwhile, the game was named Cubes, after the game's stage, but due to the protaganist's design was changed to Snots & Boogers. Around this time, Jeff Lee suggested that Q*bert should have the ability to shoot projectiles from his nose, but the idea was dropped by Davis. The game was finally named after the protaganist, and released in mid-1982.
Gameplay
Development
Ports
Ad blocker interference detected!
Wikia is a free-to-use site that makes money from advertising. We have a modified experience for viewers using ad blockers

Wikia is not accessible if you've made further modifications. Remove the custom ad blocker rule(s) and the page will load as expected.