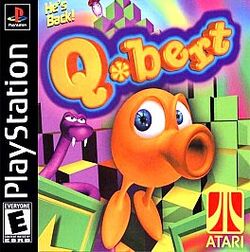 Q*bert (1999) is the fourth main game in the Q*bert series. It was released on the PlayStation and Dreamcast in 1999. The game was developed by Artech Studios and the PlayStation version was published by Atari, with the Dreamcast version being published by Hasbro Interactive. This game gives Q*bert a 3D make over, having the series main protagonist take part in a transdimensional adventure.
Help Q*bert rescue his friends, and save Q*dina while navigating through challenging new worlds of mind-bending pyramid puzzles filled with secrets, helpful power-ups, and all the familiar characters you remember - plus a few new ones!
Characters
Edit
Non-Playable
Edit
Modes of Play
Edit
Game Covers
Edit
Ad blocker interference detected!
Wikia is a free-to-use site that makes money from advertising. We have a modified experience for viewers using ad blockers

Wikia is not accessible if you've made further modifications. Remove the custom ad blocker rule(s) and the page will load as expected.