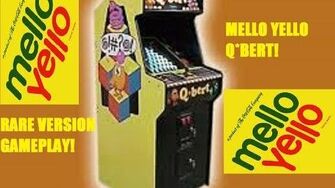 Mello Yello Q*Bert is a rare variant of the arcade version of Q*Bert released in 1982. Only ever given away in a sweepstakes, it is one of the rarest arcade games of all time.
The game plays almost identical to the original Q*Bert, but with intermissions added after a few levels (similar to Pac-Man). These show Q*Bert drinking a giant can of Mello Yello while slurping sound effects play. The title screen is also changed.
Write the second section of your page here.
Ad blocker interference detected!
Wikia is a free-to-use site that makes money from advertising. We have a modified experience for viewers using ad blockers

Wikia is not accessible if you've made further modifications. Remove the custom ad blocker rule(s) and the page will load as expected.